OnePlan is an Office 365 / Azure app that simplifies portfolio planning, provides top-down resource, financial visibility, and improves tracking of investment performance across programs and portfolios – all within a modern user interface.
OnePlan's Office 365 / Azure application serves as the engine for portfolio management, including capabilities for managing portfolios, projects, programs, time, and resource management. The app is installed in your Microsoft work management cloud experience. It uses the standard O365 app model. This means that authentication is all handled through your AD / AAD and follows all your policies inherently.
OnePlan is built on several modules that facilitate the sharing and management of project information across an organization.
Using the Portfolio, Resource, and Financial plan modules in OnePlan, managers and executives can track and manage project data to make informed decisions, assess risk, effectively assign resources, streamline budgeting, and much more. 
Using OnePlan's work management modules, team members can easily update and manage their assignments, track time, and get updates on their relevant work. 
Portfolio and work management modules have a symbiotic relationship, feeding off of each other to create a living, dynamic PPM environment. As work is completed and tracked using the OnePlan work management tools, or other integrated work tools, the portfolio-level data is updated.
As portfolio-level information is created, updated, and assigned, team members' work management tools are updated to keep their tasks and assignments up to date.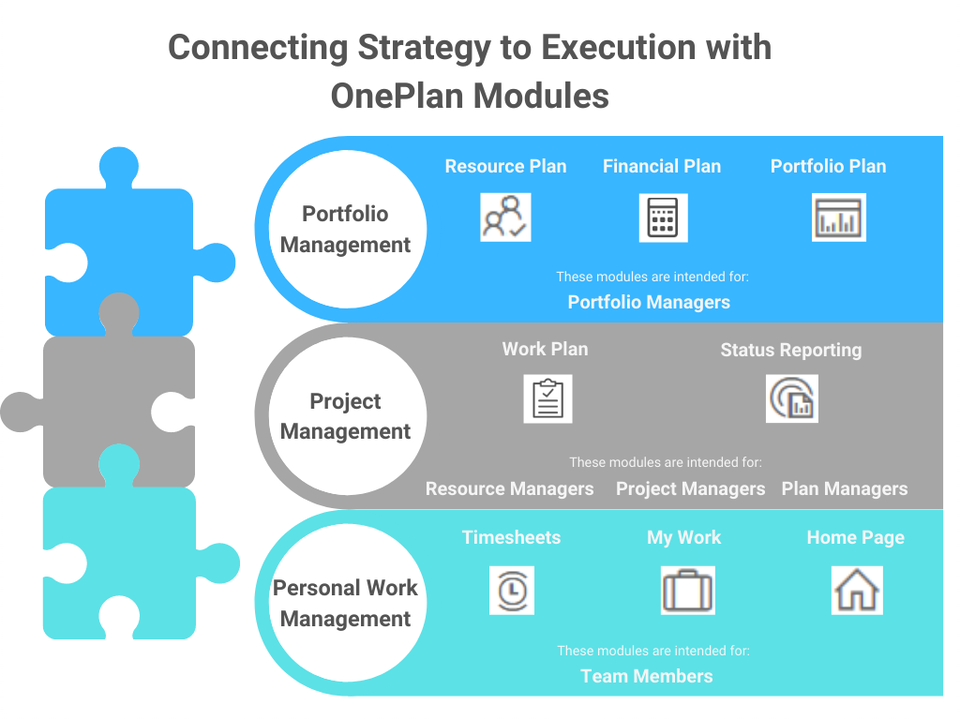 Portfolio Plan
High level agile portfolio and strategic planning that makes execution predictable. Make the right data-driven decisions to transform you Portfolio into business results.
The OnePlan Portfolio Plan provides:
A simple and central way to capture proposed work

High-level portfolio planning

The ability to capture all budget requests and manage the benefits/expenses through the life of the portfolio

Status reporting, built in dashboards, and insightful reports
Resource Plan
OnePlan Resource Capacity Planning is designed for managers and teams who are looking for more transparency, clarity, and visibility when planning projects. The Resource Planner provides insight into your project teams availability, as well as making scheduling resources on work a painless task. You no longer need to spend time in spreadsheets – let OnePlan do the work.
Fast, simple, visual resource capacity planning for teams, people, and equipment

Dynamically manage resource schedules with drag and drop

Robust portfolio analysis

Visual reporting and analytics
Financial Plan
OnePlan Financial Planner gives your team the power to integrate financial reporting directly into Office365. OnePlan combines top-down project financials to provide powerful insights and empower decision making. Streamline budgeting, improve estimating, and track the performance of your investments across programs and portfolios to gain full control over your project finances through seamless integration with your project management tool.
Top-dow and bottom-up project financials

Visibility into project, program, and portfolio expenditures

End-to-end capital budgeting and financial planning

Executive dashboards and reports