This article explains the OneConnect setting options.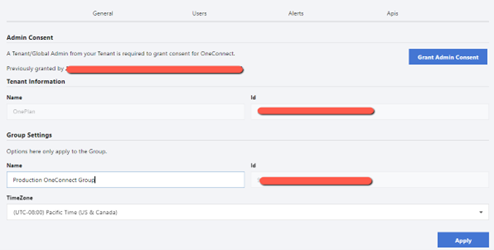 Here is where the Microsoft Global Admin can Grant Admin Consent for the organization and their users for the use of OneConnect (specific integrations might require further consent).

The name of the OneConnect group can be changed.

The time zone can be applied here.
Within this tab, the list of individual users/accounts that have been granted access to the individual OneConnect group will show here. Any individual who has Administrator access can add users, view access requests, change the role of each user, and remove access to the group.

If specific users wish to be notified on failed strategies, add the email, and click on the On Failure toggle so the toggle shows as blue, then click Apply. See Enable Job Failure Email Alerts for more information.